Bionic Commando
aka: Bionic Commandos, Top Secret
In Bionic Commando the player takes control of a soldier with a bionic arm that extends and contracts. The bionic arm allows the soldier to grab onto fixed objects and swing around and climb up levels — no jumping allowed! The arm also grabs opponents and pulls them towards the protagonist.
The player's mission is to storm the enemy's fortress and destroy the launch computer to prevent the enemy from using their doomsday weapon.
Spellings
トップ・シークレット - Japanese spelling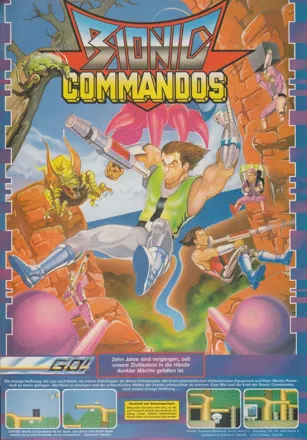 Credits (Arcade version)
4 People
Trivia
References
"Super Joe", who you are sent to rescue is the character from Capcom's original Commando game. Apparently without someone to insert credits to continue, he was easily captured.
Generalissimo Killt's name might be a reference to Spanish dictator Francisco Franco, since Generalissimo was to Franco what Führer was to Hitler. Besides, Franco and Hitler collaborated together several times, first Hitler aiding Franco in the Spanish Civil War and later Franco aiding Hitler in the World War II. Another interesting fact, although in that case might be just a coincidence, is that the most representative image of Franco during the post-war is the one with him wearing a cloak, just like G. Killt.
Awards
ACE

October 1988 (issue #13) - Included in the Top-100 list of 1987/1988 (editorial staff selection)* Computer and Video Games
Issue 06/1989 - Winner Golden Joystick Award 1989 for Best 8-Bit Soundtrack (reader's vote)* Game Informer
August 2001 (Issue #100) -#66 in the "Top 100 Games of All Time" poll
Information also contributed by Captain Canuck, Kohler 86 and PCGamer77
Contribute
Know about this game? Add your expertise to help preserve this entry in video game history!