Defender
aka: Earth Attack
Defender put players in charge of a ship sent to protect mankind from wave after wave of attacking alien forces.
Armed with smart bombs and the ability to use hyperspace to move quickly around the planet, the player ship must fight against Bombers, Pods, Swarmers, Baiters, and Landers - that can capture the humanoids and transform them into deadly and relentless Mutants. Fail to save the humanoids from freefall or Mutant transformation, and the planet is destroyed.
Spellings
ディフェンダー - Japanese spelling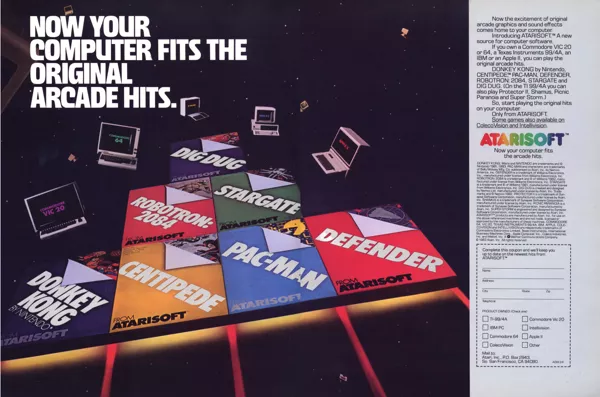 Credits (Arcade version)
6 People
| | |
| --- | --- |
| Designed by | |
| Programmed by | |
| Additional programming | |
| Graphics | |
| Cabinet art | |
| Hardware | |
Trivia
1001 Video Games
The Arcade version of Defender appears in the book 1001 Video Games You Must Play Before You Die by General Editor Tony Mott.
Arcade success
The original Defender arcade was slow to become a hit when it was released as many thought it was too difficult due to its control configuration of five buttons and a joystick. It ultimately gained many fans and remained popular throughout the 1980s. Defender has been described in Gamasutra as "quite possibly, the hardest significant game there is".
Board game
In 1983, Entex adapted this video game into a board game.
Comic
Atari's 2600 release of Defender included the comic book Atari Force #1. Here is that comic at AtariAge.com
Development
Game creator Eugene Jarvis cites Space Invaders and Asteroids as major influences on the design of Defender.
[Source: Retro Gamer Magazine, Load 55]
Legacy
Eugene Jarvis, creator of both Defender and its sequel Stargate, says that although the gameplay and coding of Stargate is more refined, he prefers the relative simplicity of the original Defender.
[Source: Retro Gamer Magazine, Load 55]
References to the game
Defender a song inspired by it on the full-length Pac-Man Fever album - The Defender.
In the 1983 episode Smaller Than Life from the TV series Magnum P.I., a kid is seen playing Defender on an Atari 800.
Information also contributed by LepricahnsGold, Nélio, PCGamer77, Pseudo_Intellectual and FatherJack
Contribute
Know about this game? Add your expertise to help preserve this entry in video game history!
Contributors to this Entry
Game added by Trixter.
TI-99/4A added by Corn Popper. ColecoVision, Commodore 64, Atari 2600, Intellivision added by PCGamer77. Xbox 360 added by chirinea. Browser added by HelloMrKearns. Dedicated handheld, Adventure Vision added by OmegaPC777. Atari 5200 added by RKL. Macintosh added by Kabushi. Atari 8-bit added by Martin Smith. Arcade added by Pseudo_Intellectual. Antstream added by lights out party. VIC-20, Apple II added by Servo.
Additional contributors: Guy Chapman, Nélio, LepricahnsGold, Patrick Bregger, Starbuck the Third, FatherJack, Bart Smith.
Game added May 26th, 1999. Last modified February 22nd, 2023.