In the fourth game of the venerable SWAT series, you play as a Special Weapons and Tactics element commander at a fictional police department. Using realistic SWAT tactics, you must command your four man team to deal with high risk situations while minimizing casualties. But this is not a game for the itchy trigger finger. You must follow strict rules of engagement, and shooting a suspect before he or she points a gun at someone will cost you.
Using a variety of weapons, such as standard assault rifles or less lethal weapons ranging from beanbag shotguns to Tazers to modified paintball guns that shoot pepper spray balls, you can maneuver the two man squads that make up your five man (including you) element independently or together, as well as get useful recon from snipers (who you can control through a picture-in-picture interface).
The game has a single player career mode as well as an Instant Action mode that generates a random mission using an existing map. You can also customize objectives for a single player mission. Multiplayer includes team-based SWAT vs. suspects games as well as cooperative play with up to five players.
Spellings
迅雷先鋒4 - Traditional Chinese spelling
霹雳小组4 - Simplified Chinese spelling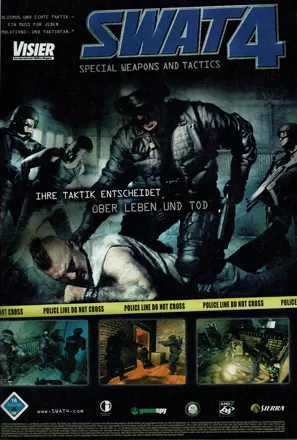 Credits (Windows version)
227 People (197 developers, 30 thanks) · View all
Programming
Additional Programming
Design
Art
Additional Art
Music and Sound Design
Additional Audio By
Script
[ full credits ]
Trivia
1001 Video Games
SWAT 4 appears in the book 1001 Video Games You Must Play Before You Die by General Editor Tony Mott.
LAPD
Unlike previous games in the SWAT series, SWAT 4 is not based on or endorsed by Los Angeles Police Department (LAPD).
References
Your briefing sergeant, Sonny Bonds, is the protagonist of the Police Quest series, which the original SWAT was a spin-off of.
The parking garage level includes an arcade machine in the employee lounge that features Freedom Force vs The 3rd Reich, another Irrational game released at the same time.
Awards
GameSpy

2005 – #9 PC Game of the Year
Information also contributed by Kasey Chang
Contribute
Know about this game? Add your expertise to help preserve this entry in video game history!