Ultimate Mortal Kombat 3
aka: MKA: Mortal Kombat Advance, Mortal Kombat Advance, UMK3, Ultimate Mortal Kombat
Ultimate Mortal Kombat 3 combines the best of all the Mortal Kombats into a single cartridge. 23 playable characters are immediately available, such as Reptile, Cyrax, Scorpion, Sub-Zero, Jax, Katana, Sonya, and more. There are two bosses that are unlockable, as well as additional characters.
There is a variety of new levels, some of which are interactive. Characters can uppercut someone, causing them to hit the ground hard and crash through to the bottom floor, or they can knocked someone off a bridge, landing in a pit of spikes.
Players can go against the computer one-on-one, two-on-two, or take part in the 8-fighter tournament.
The DS version has a wireless one-one-one multiplayer mode and includes the Puzzle Kombat mini-game from Mortal Kombat: Deception.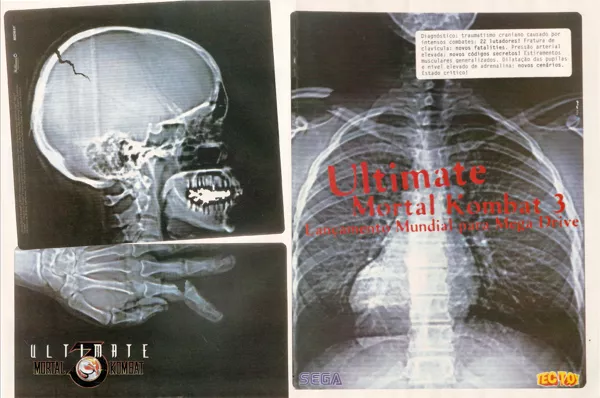 Credits (Arcade version)
60 People (44 developers, 16 thanks) · View all
Ultimate MK3 Cast of Characters
Software
Graphics
Sounds
Music
Executive Producers
Hardware Design
[ full credits ]
Trivia
German index
On August 31, 2000, Ultimate Mortal Kombat 3 was put on the infamous German index by the BPjS. For more information about what this means and to see a list of games sharing the same fate, take a look here: BPjS/BPjM indexed games.
Noob Saibot
In Mortal Kombat 3, due to the lack of traditional male ninjas in the game, the secret character Noob Saibot was a black palette swap of Kano, instead of being a palette swap of the ninjas as he was in Mortal Kombat II. In Ultimate Mortal Kombat 3, Noob was again brought back as a ninja palette swap. The Sega Saturn version, however, still contains the Kano Noob Saibot. This is because the Sega Saturn port of Ultimate Mortal Kombat 3 is actually a hacked version of Mortal Kombat 3 for the Playstation.
Rain
The character Rain (playable in some ports of the game) is a purple ninja palette swap. The co-creator of the game, Ed Boon, is said to be a longtime fan of the artist Prince; Rain's name and appearance is a reference to Prince's song Purple Rain.
SNES version
In order to include as much as possible for the SNES port of the game, the character Sheeva (who was created using stop motion animation) was dropped to make room.
Awards
Electronic Gaming Monthly

June 1996 (Issue 83) - Game of the Month (Saturn version)
March 1997 (Issue 92) - SNES Game of the Year runner-up (Readers' Choice) + Genesis Game of the Year runner-up (Readers' Choice)
Information also contributed by Medicine Man and Xoleras
Contribute
Know about this game? Add your expertise to help preserve this entry in video game history!