Ultimate Mortal Kombat 3
aka: MKA: Mortal Kombat Advance, Mortal Kombat Advance, UMK3, Ultimate Mortal Kombat
Moby ID: 6593
Ultimate Mortal Kombat 3 combines the best of all the Mortal Kombats into a single cartridge. 23 playable characters are immediately available, such as Reptile, Cyrax, Scorpion, Sub-Zero, Jax, Katana, Sonya, and more. There are two bosses that are unlockable, as well as additional characters.
There is a variety of new levels, some of which are interactive. Characters can uppercut someone, causing them to hit the ground hard and crash through to the bottom floor, or they can knocked someone off a bridge, landing in a pit of spikes.
Players can go against the computer one-on-one, two-on-two, or take part in the 8-fighter tournament.
The DS version has a wireless one-one-one multiplayer mode and includes the Puzzle Kombat mini-game from Mortal Kombat: Deception.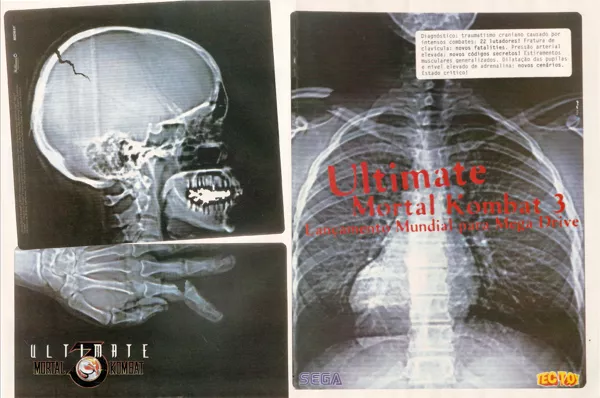 Credits (Arcade version)
60 People (44 developers, 16 thanks) · View all
Ultimate MK3 Cast of Characters
Software
Graphics
Sounds
Music
Executive Producers
Hardware Design
[ full credits ]
Critics
Average score: 71% (based on 64 ratings)
Players
Average score: 3.8 out of 5 (based on 131 ratings with 5 reviews)
This Is the Greates Mortal Kombat Game EVER!!!

The Good
This game has to be one of the best Mortal Kombat games ever created. The charecter choices were great and when u find out how to unlock human smoke there even better.
Gameplay- 9/10 It was awesome no major faults other than the glitch when u go to the 8 player tournament mode
Sound- 8/10 awesome sound good sound effects the only problem is the guy who goes "Whoopsie!!!" when u uppercut your opponent, other than that good music, and sound.
Graphics- 9/10 good graphics for a Snes, the players and there detail are awesome the levels all have nice backgrounds and such the blood effects were cool too.
Replay Value- 10/10 you could play this game until your thumbs bleed its so great.
Overall 9/10- This game is my favourite Mortal Kombat game and the greatest so much to do and so many things to kill
Buy or Rent- I would rent this game first if possible but if you can't then buy it the most i've seen one of these things go for was 15 dollars so thats not bad.

The Bad
"Whoopsie!!!" Man

The Bottom Line
IIIIITTTTTTTSSSSSSS GREEAAAAAAAT!!!!
SNES · by Bob Seagerson (1) · 2003
The worst fighting game ever, on any platform. Avoid at all costs.

The Good
Absolutely nothing. This game sucks.

The Bad
Where to start? Mortal Kombat on the GBA has some of the worst AI that I have ever seen in a video game. Not that they're brain-dead, no. Not that they're simplistic, no. Not that they're too smart, no. So, what is it that makes the AI so horrible? It's that it constantly cheats in order to win. So, it's more like a horrible excuse for AI rather than actual AI that can actually play by the rules.
Due to the translation to the GBA, the controls have been watered down in order to work with the GBA's built-in controller. Get this: Aside from your movement controls (left, right, jump, crouch), you can only punch or kick. No fatalities, no special moves, no blocking, no nothing aside from those basic controls. Since the punches and kicks are actually the strong attacks in the original Mortal Kombat games, which take a while to wind up, that means that there is an absolutely ridiculous delay between the press of the button and the attack actually registering.
Not that the attack is going to register anyways. Back to the AI, your opponent will block all of your attacks (contrary to the limited controls mentioned above), making him absolutely impossible to destroy, and making the game's existence completely pointless. To top it all off, he will get very close to you and punch and kick the crap out of you before you even have a chance to defeat him. And, despite the fact that the game does look and sound like Mortal Kombat (Ultimate Mortal Kombat 3 to be exact), visuals and sound are of low quality, further hampering an already horrible game.

The Bottom Line
Pure, rotten crap in a GBA box that smells so bad, the stink will kill you if you smell it. Actually, that's only the beginning of the sheer awfulness of Mortal Kombat on the GBA. It's just that horrible. You'll be much better off playing all of the other Mortal Kombat games (except for Mortal Kombat: Special Forces). But whatever you do, avoid this game by any means necessary, and don't say that I didn't warn you!!!
Additionally, how could this garbage possibly have been approved for release by Nintendo? This game does not deserve any kind of "Seal of Quality" because, for the record, it is absolutely ROTTEN! I could go on and on about this piece of garbage, but if it isn't clear up to this point: Don't play this game.
Game Boy Advance · by Spartan_234 (424) · 2006
A lazy port of a great game, but still fun

The Good
By that time UMK3 was probably the best fighting game for Sega Genesis, though this port was quite lazy generally, but had still very cool pluses.
At first the graphics - the arcade game had impressive graphics, but the Genesis ports graphics were a lot more pixelated, but the frame rate was perfect at least. The blood still looked good as in the arcade game, but effects were dropped down a bit.
The audio was descent as well, but also missed a lot. Gameplay itself was fun - you started with 23 playable characters, + there was 1 character, who could be secretly played when picking a similar character and pressing a button combination at the same time (the secret character was Human Smoke.)
Playing through the arcade was fun, and discovering the secret treasures of Shao Kahn after you beat him was mostly entertaining, though the Supreme Demonstration was dramatically toned down, about that i will talk in the flaws of the game.
The versus mode and the 2 vs 2 player battles were awesome as hell for that time, it was probably the best thing about the game. Also the 8 player tournament was also welcomed good. The fighting itself was interesting, doing special moves and combos (which was quite hard on a controller where u should press 2 buttons at a time to do a HK, HP etc. Especially hard was to do fatalities then.)

The Bad
The graphics of this port were a lot worse than on the arcade, very much pixelated, and some effects looked very bad and strange sometimes (for example, Dan "Toasty" Forden pops out in black and white colour, some fatalities where changed for memory savings, such as Kitana's kiss of death fatality, where instead of the opponent turning fat, his head turned into a balloon like in Kabal's fatality, and Scorpion's fatality where he pulled a hellish hand out, was simply changed into transforming his opponent into Scorpion's Lair and letting him burn there, it was a nice try for some times though. The sound effects where also toned down badly. The announcer never said the names of the kombatants, in fact, the only thing you heard from the announcer were commentaries (Excellent!, Superb!, Muahahahhaha! etc.) and the Fatality announcement. The sound quality was also very bad, the great sounds of screaming, music and stuff were very bad quality also. But non the less, the screams did not sound that bad that they were painful to hear (if not), and the music still sounded descent.
Also i must note that from the playable characters Sheeva was taken down due to memory savings, though its not that sad.
But one thing which was really bad - the finishing moves. Exactly to explain what was so bad - in the Supreme Demonstration you can see all finishing moves which can be done in this game, and there u discover a sad truth that there are no Animalities, and Classic Sub-Zero, Human Smoke, Noob Saibot and Rain don't even have fatalities here. Quite disappointing.
Also as in traditional Mortal Kombat way - the AI is very difficult to beat for the most part.

The Bottom Line
If you are a Mortal Kombat fan and want a good port of UMK3, this is not for you, but if you own a Sega Genesis and want a fun fighting game on it, i cant recommend a better game than this.
Genesis · by Medicine Man (328) · 2009
Trivia
German index
On August 31, 2000, Ultimate Mortal Kombat 3 was put on the infamous German index by the BPjS. For more information about what this means and to see a list of games sharing the same fate, take a look here: BPjS/BPjM indexed games.
Noob Saibot
In Mortal Kombat 3, due to the lack of traditional male ninjas in the game, the secret character Noob Saibot was a black palette swap of Kano, instead of being a palette swap of the ninjas as he was in Mortal Kombat II. In Ultimate Mortal Kombat 3, Noob was again brought back as a ninja palette swap. The Sega Saturn version, however, still contains the Kano Noob Saibot. This is because the Sega Saturn port of Ultimate Mortal Kombat 3 is actually a hacked version of Mortal Kombat 3 for the Playstation.
Rain
The character Rain (playable in some ports of the game) is a purple ninja palette swap. The co-creator of the game, Ed Boon, is said to be a longtime fan of the artist Prince; Rain's name and appearance is a reference to Prince's song Purple Rain.
SNES version
In order to include as much as possible for the SNES port of the game, the character Sheeva (who was created using stop motion animation) was dropped to make room.
Awards
Electronic Gaming Monthly

June 1996 (Issue 83) - Game of the Month (Saturn version)
March 1997 (Issue 92) - SNES Game of the Year runner-up (Readers' Choice) + Genesis Game of the Year runner-up (Readers' Choice)
Information also contributed by Medicine Man and Xoleras
Contribute
Are you familiar with this game? Help document and preserve this entry in video game history!