Bubsy in: Claws Encounters of the Furred Kind
aka: Bubsy dans recontres de troisième griffe, Bubsy in Krallende Begegnungen der Pelzigen Art, Yamaneko Bubsy no Daibōken
In this 15-level action game the player is Bubsy the bobcat, who has to defeat the Woolies the aliens, which steal balls of yarn. There are five different locations such as jungle, wild west, etc., where the player has to jump and land on their enemies to kill them. Each time to finish the level the player has to defeat the boss, who sits in an alien ship.
Spellings
やまねこバブジーの大冒険 - Japanese spelling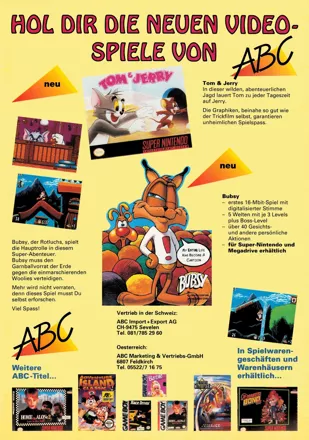 Credits (SNES version)
31 People (30 developers, 1 thanks) · View all
Produced by
Design
Additional Design
Art Design
Bubsy Design and Animation
Music Composition
Additional Programming
Quality Assurance Coordination
Quality Assurance
Music Driver

Copyright 1992 Chip Level Designs

Animation and Backgrounds
Additional Animation and Backgrounds
[ full credits ]
Trivia
Bubsy
Accolade tried to make Bubsy a Sonic-Killer, he even got a TV Show (although it only lasted one episode.) You can tell, because they tried to give Bubsy a attitude, and a wit.
References
The title hints at Steven Spielberg's film Close Encounters of the Third Kind.
Awards
Parent's Choice Approval

Electronic Games

One of the Best SNES Games
Information also contributed by JohnLennon224 and Sciere
Contribute
Know about this game? Add your expertise to help preserve this entry in video game history!