American McGee's Alice
aka: Ailisi Mengyou Xianjing
Shortly after Alice returned from the miraculous trip through the Looking-Glass, her house was burnt down, and her parents died in the fire. Alice was the only survivor of the terrible accident. After repeated attempts at suicide, she gets locked up inside a mental institution and is slowly wasting away there before she is summoned to Wonderland again by the White Rabbit. But this time it's a Wonderland gone seriously bad and gory. The only chance for Alice to restore her peace of mind and find out more about the death of her parents is to fight through Wonderland and free it from the evil powers.
American McGee's Alice is a direct sequel to Lewis Carroll's book Through the Looking-Glass, itself a sequel to Alice's Adventures in Wonderland. The player controls Alice as she tries to find her way and eventually escape from the demented surroundings of her own fantasy world that she's been thrust into. The surreal environments utilize themes from Lewis Carroll's original books, applying a noticeably darker and more violent edge to them.
The gameplay is third-person action with platforming, shooting, and light puzzle-solving elements. Alice starts with a knife, which can be used as a melee weapon or thrown at enemies. Later she acquires other weapons, such as a staff that shoots bolts of energy, dice that emit deadly gas, a time-stopping watch, and others. Weapons have an alternate fire mode, which usually inflicts more damage but depletes Alice's magical energy. The latter, along with Alice's health, can be restored by collecting the essence of defeated foes.
The game also features platforming sequences, during which Alice has to jump over gaps, avoid obstacles, or climb in order to reach her goal. Puzzle-solving usually involves manipulating the environment rather than using inventory items.
The game was re-released as part of select editions of the 2011 sequel, Alice: Madness Returns, as a downloadable extra. The content is identical, but with widescreen support, updated controller support, compatibility tweaks and higher-resolution textures.
Spellings
Америкэн Макги: Алиса - Russian spelling
爱丽丝梦游仙境 - Simplified Chinese spelling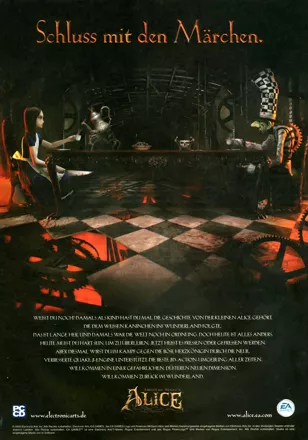 Credits (Windows version)
102 People (90 developers, 12 thanks) · View all
Original Concept
Project Leader
Executive Producer
Programming
Level / Scenario Design
3D Modelling
Marketing & PR
[ full credits ]
Critics
Average score: 83% (based on 62 ratings)
Players
Average score: 3.8 out of 5 (based on 143 ratings with 11 reviews)
The Good
American McGee's Alice is a fascinating game - at least it is for me. But where does this fascination come from?
The first and foremost thing about this game is its atmosphere and style. In my opinion it's sheer genius to expand the nice Alice in Wonderland story into a tale of death and murder, blood and torture, and pure paranoia - a tale for grown-ups. But it is one thing to have a good idea, and something completely different to make a good game of it. But here, the designers did.
The level designs and graphics all resemble the "known" Wonderland, but this time a Wonderland gone really bad. The game throws levels at you that vary from stunning beauty to mind-twisting surreality. This alone kept me playing, just to see what crazy stuff the designers had up their sleeves, yet. And I wasn't disappointed when with the conquering of the heart queen's castle near the end game, another visual blast was waiting. The enemy and weapon design also fit well here, both adding to this wonderful dark and paranoid atmosphere this game delivers.
Speaking of enemies, I really liked my cannon fodder, as no two enemy kinds are the same to kill. There are the lava monsters that are fluid and easy to kill when they come out of their lava pit, but turn to stone and, therefore, get harder to kill by the second. There are those little devils that just take one hit, but come in hordes. There are those fish pests that charge at you while swimming and throw acid and lava when you're standing at the shore. And the list goes on. Every enemy kind is well thought out and has its strengths and weaknesses to be discovered. And when you found out how to kill them more or less easily, they will team up to make your life harder again. The same goes for the boss fights, pure adrenaline.
Speaking of weapons, those all are Alice's toys gone dangerous. There's her cards, her cricket bat, her jack-in-the-box, her dice, and so on. They all kill the enemies in two different modes, can be used short or long range, are toys of single or mass destruction. It's part of the fun to try out all these funny goodies and see what they can do to your opposition. And you should know your weaponry well, as there will be fights that are impossible to win with one weapon, but easy going with another one or a combination of them.

The Bad
Some things hinder this game from becoming a true classic, though.
If you put aside the covers of cool design and style, a linear action platformer is left for you to play. A good one, that is, but somehow the actual gameplay can't really keep up with the presentation. The level designs vary in quality, top notch levels make room for huge mazes with spawning enemies that are an exercise in anger management. Furthermore, the cool background of Alice freeing her own fantasy world of her problems and sense of guilt isn't developed well within the game. Here and in those enemy-ridden mazes you will most painfully notice that the developers of this game have a history of developing 3D shooters.
The controls sometimes annoyed me, especially the jumping didn't work as expected, more than once it wasn't clear to me whether Alice can grab hold of an edge in front of her or not. Falling down into nirvana too often is the result of all this.
Last thing, fighting enemies it's sometimes not obvious whether you're doing damage or not. Especially when battling the centipede boss monster, I spend half an hour throwing everything at him until I finally looked up in a FAQ that there's a special area where he can be hit.

The Bottom Line
I love this game, no doubt about that. But still, I sometimes dream about it done right from start to finish. With a good storyteller to develop Alice's problems, with a huge Wonderland for Alice to roam freely, maybe with an RPG-like experience and questing system. The sky was the limit...
But heck, a sequel is in the making, let's see what they'll do with this legacy.
Windows · by MZ per X (3010) · 2010
A truly magnificent gaming experience

The Good
There are many things to like about this game. First off, the graphics are just drop-dead gorgeous. The scenery is as spaced out as one would expect from a game with a knife-wielding Alice. From the lush outdoors to the spooky buildings, the graphics are always a pleasure on the eye. Secondly, the levels are great. Every level has its own unique graphics, and design, giving the player the feeling of being totally immersed in another world. One of the best levels, for instance, is one where the surfaces of the walls are like mirrors, reflecting other walls. Thirdly, the controls are great: it doesn't take very long to learn how to move about and fight. Finally, the game's difficulty slowly increases as you get more used to controls and gameplay. For instance, the first few levels pits you against cards that die with one or two hits. Later however, you battle rooks and knights, each of which attack in different ways, and require a different amount of hits to dispatch.

The Bad
The requirements of the game are a let down. The first time I played it, I reached a point after which none of the game's sprites would show up. So everything was white, except for the levels. This made playing difficult. Of course that was because my video card was a stinky one. After getting a new system, however, the game screams to be played. Also, at times, the controls can be over-sensitive. This is esp. frustrating when negotiating jumps: sometimes you jump onto a platform, only to land near the edge. Desperate to avoid falling off, you quickly move back, only to accidentally run off the back.

The Bottom Line
The gameplay is good, the voice acting is great, and the graphics are superb. This game will definitely appeal to fans for 3rd-person perspective 3D games, and maybe even the RPGers (I mostly play RPGs myself). Words cannot describe how great a gaming experience this was, esp. since I'm playing it for the umpteenth time.
Windows · by willyum (1020) · 2002
Painting the roses red…with blood.

The Good
I always enjoy it when someone takes an otherwise harmless children's story and exposes all the grotesque potential that lies underneath, which is what Mr. McGee has done with Alice In Wonderland.
Using an updated Quake III engine and 3rd-person perspective, to say that this game is disturbing would be a dreadful understatement. Wonderland has become a dark, malicious, and misshapen land, which now makes even less sense than it did when Alice went there the first time. The vibe given off by the scenery in the game is not unlike that of Clive Barker's Undying; very little light and a seemingly never-ending night. All of the characters from the original story are present (even the Mock Turtle), and it was a joy to roam around and see how they had changed due to Alice's insanity (the Cheshire Cat now even sports a large earring). Also, gamers in my age range (20-25) may find a few things to remind them of console gaming in the late 1980's. The gameplay itself was quite retro in many respects, and reminded me very much of the old side-scrolling jumping games like Super Mario Bros. or The Lost Vikings, except rendered in 3D. This game could've easily come out 15 years ago on the original NES.

The Bad
I honestly don't have any real complaints about Alice, other than there were times that I thought it was too easy and helpful almost to a condescending level. So even if you're fairly new to gaming, I would still advise you to play it on the hardest difficulty setting, since you'll find the most challenging gameplay there. Also, the replay value is virtually nonexistent, but for a game like this it's to be expected.


The Bottom Line
Many people have complained that this game is devoid of replay value (true), has wonky control (true), is too easy most of the time (true), and is a throwback to old console gaming (true yet again). My advice is to check your brain at the door, and take this game for what it is; a twisted and creepy good time in a familiar setting. And since it is now priced between $7.99 and $9.99, it's a very good deal.
Now, will someone please make this into an animated movie?
Windows · by BJ Hoskins (9) · 2003
Trivia
Alice statue
Rogue Entertainment still has one of these aforementioned Alice statues, along with the Cheshire cat, in its Dallas offices. Only three (of Alice and the Cheshire cat) were created.
Cancelled port
A PS2 version was also in development but was canceled causing Rouge Entertainment to shut down, a decision which infuriated American McGee.
Extras
The game came with a "Casebook" that described how Alice got admitted to the mental asylum and how her doctor tried to cure her.
EA supplied an Alice statue to selected retail outlets for promotion. It was an evil looking Alice bearing a butcher's knife in bloody hands, and her skirt was bloody, too. In Germany however, the knife and blood were gone, instead, she was holding some playing cards.
Cover art
Later releases of the game in the U.S. had an altered cover art. In the original, Alice was seen on the cover holding a bloody knife, with blood stains all over her apron. There were two revisions to this; in the first one she can be seen holding an ice wand, and in the second revision she's holding a deck of cards. In both of them her apron is stain-free. The Cheshire Cat next to her even looks less skeletal in the new cover art.
Cut content
An early version of the game gave you the chance to summon the Cheshire Cat to fight by your side, but this feature was removed from the final game. You can still find some early pre-release screenshots around the net that showed this however.
Merchandise
As of 2004 a line of action figures based on the game is currently in stores.
Ratings
According to an Wired interview with American McGee this game was Electronic Art's first 'M' rated release
References
On the "load/save" screen, you get three buttons to load, save or delete a game. Next to each button is a one-letter abbreviation of it's function. Did you notice that this spells out "LSD"?
Sales
According to an interview with American McGee, Alice sold over 1 million copies on the PC platform alone, contrary to reports saying it sold poorly.
Soundtrack
The original musical score for Alice was created by Chris Vrenna, former drummer for the band Nine Inch Nails.
There was a soundtrack for the game released when the game came out, which included music from the game, with dialogue from the various characters. As of 2004 you can still buy it from various retailers for $10, brand new.
The name of the soundtracks in the musical score are not completely correct. For instance, the musical score features a track named Battle with the Red Queen, but actually that track appears in the Skool level.
The musical score feature an "extra" track called Taking tea in Dreamland (the reason why it is called "extra" is that it doesn't appear in any levels throughout the game.
Awards
GameSpy

2000 – Special Award for Graphics
2000 – Special Award for Music

PC Powerplay (Germany)

Issue 11/2005 - #6 Game Which Absolutely Needs A Sequel (it eventually got one in 2011)
Information was also contributed by Foxhack, Lev Epshteyn, Karthik KANE, phlux, S M, Roger Wilco, Zack Green and Zovni
Related Sites +
A White Rabbit, A Crazy Alice, and Mac OS X
An Apple Games article about the Macintosh version of <em>Alice</em>, with commentary being provided by Michael Rogers, president of Aspyr, the company responsible for porting the game to that platform. The article also provides a brief "Visitor's Guide to Wonderland" as well as general information about the game, including a brief background on Lewis Carroll.
Walkthrough
A complete guide on Gameboomers from the beginning to the end of this game! (English)
Contribute
Are you familiar with this game? Help document and preserve this entry in video game history!