Illusion of Gaia
aka: Gaia Gensouki, Illusion of Time
Will is a young boy whose father disappeared long time ago. Now Will lives in a small town with his grandparents. He possesses unusual abilities of pushing and pulling things without touching them. One day, he finds in his house a girl, who soon turns out to be the princess Kara. Kara's father, king Edward, wants her to marry a mysterious person called the Jackal. Kara asks Will to help her to escape the palace, and soon they both get involved in a string of mystery and conspiracies.
Illusion of Gaia is an action role-playing game set in a fantasy version of Earth reminiscent of the age of exploration (16th century) and featuring famous real-world locations such as the Egyptian pyramids, the Great Wall of China, etc. The player controls Will, who can either fight in his regular form or transform into any of the two alter egos: the dark knight Freedan and Shadow, a manifestation of energy. Each character has different attributes and fights with his own weapon. The player receives special jewels upon clearing a room of enemies, which acts like experience points and is used to improve the protagonist's attributes. There is no monetary system or equipment in the game.
Spellings
ガイア幻想紀 - Japanese spelling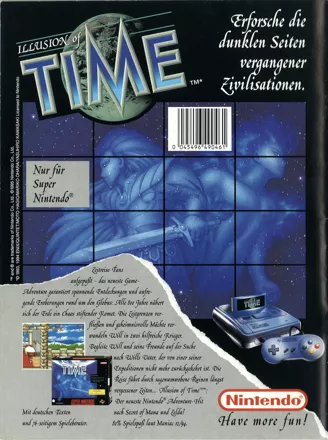 Credits (SNES version)
62 People (49 developers, 13 thanks) · View all
Original Story
Character Designer
Game Designer
Program Director
Main Programmer
Background Designer
Object Designer
Graphic Designer
Sound Composer
English Text by
French Text (Textes français)
German Text
Text in Spanish by (Texto en español por)
Title Coordinator
Quintet Staff
[ full credits ]
Trivia
References
Collecting all 50 Red Gems opens up a special level, the boss of which is a much harder version of Solid Arm, the first boss of Soul Blazer, Illusion of Gaia's predecessor. In fact, when defeated, he says "Blazer was strong, but you are stronger".
Awards
GameFan

1994 (Vol 3, Iss. 1) - Overall Action/RPG Game of the Year
1994 (Vol 3, Iss. 1) - Best SNES Action/RPG Game of the Year
Information also contributed by Big John WV
Contribute
Know about this game? Add your expertise to help preserve this entry in video game history!