Death Sword
aka: Barbarian, Barbarian: Der mächtigste Krieger, Barbarian: Le Guerrier Absolu, Barbarian: The Ultimate Warrior, Battle Sword
The evil magician Drax is terrorizing the jeweled city and cast a spell over the beautiful princess Marina who is forced to obey him. From the lands to the north, a hero is sent to help the city and free the princess. He is Gorth, the strongest of the barbarian warriors. With his sword in hand, he has to beat eight of Drax's best warriors and at last the magician himself. He will fight them in the woods, on the mountaintop, in the dungeon... finally reaching Drax's palace itself.
This is essentially a one- or two-player fighting game where you control a big barbarian and fight another player or a computer AI. There are several kinds of hits, and some hits take off half a point while others take off a whole point. Each player has six of these "power points". They also have a special hard to perform "death sword" which decapitates your opponent, killing him with one fell swoop.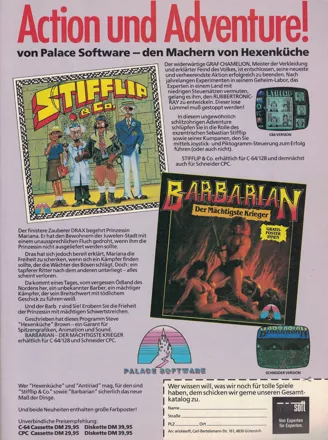 Credits (Atari ST version)
5 People
| | |
| --- | --- |
| Conceived and designed by | |
| Atari ST programming by | |
| Sound by | |
| Assistant Artists | |
Trivia
Cover
Michael Van Wijk, the model in the (Barbarian) front cover photo later became Wolf in the UK TV version of Gladiators. His character was something of an overblown pantomime type who aimed to add some light relief to proceedings. The back cover features Maria Whittaker - a famous The Sun's Page 3 model in the 80s .
German index
On October 31, 1987, the German version of this game was put on the infamous German index by the BPjS. Two months later, on December 31, 1987, followed the UK import. More information about this topic can be found in the game group.
Inspiration for the sword fighting
Designer Steve Brown wanted to do a sword fighting game. The inspiration for those fights came from the film Conan the Destroyer. He admits he watched the movie for hours to extract the sword fighting scenes. These fighting moves were then re-performed by himself and Gary Carr and also filmed. These short film cuts were then used as a base for the animations in game.
Awards
Commodore Format

March 1994 (Issue 42) Heaven – The Path to Righteousness: 20 Essential Games

ST Format

January 1993 (issue #42) - #46 in '50 finest Atari ST games of all time' list
Information also contributed by Xoleras
Contribute
Know about this game? Add your expertise to help preserve this entry in video game history!
Contributors to this Entry
Game added by Tomer Gabel.
Amiga added by EboMike. iPhone, iPad added by Sciere. Commodore 64 added by Der.Archivar. Amstrad CPC, BBC Micro added by Kabushi. Atari 8-bit added by Martin Smith. Atari ST added by ZZip. Electron added by Jack Lightbeard. Antstream added by lights out party. Apple II added by Servo. ZX Spectrum added by RodeoInTheGreatWhiteNorth.
Additional contributors: Trixter, Quapil, Martin Smith, formercontrib, Macs Black, Patrick Bregger, mailmanppa, Monsieur B., Jo ST, FatherJack, ZeTomes.
Last modified February 27th, 2023.